Intro:
This is my first event thru CDO Bloggers Inc. After many times of wishing and praying that I'll be part of the group and to be in their events at last! finally I attended one. Thank you so much CDO Bloggers Inc. for making me part of the family.
#####
20 December 2013
Domingos' Eatery
14th-21st Streets, Nazareth, CDO
Reynold Domingo, the creator of Kataste started his humble beginnings as a chef for a white water rafting company, from then on he started creating yummy sauces that propelled "Pizza de Oro" and "Capt. Richie's Back Ribs" into CDO's yummiest.
Sir Reynold shares the history of Kataste
Kataste (ka-tas-te) coined its name from "KAgayanon's TASTE". Its a ready-to-eat Oyster Sauce (RTE as a ketchup) not only good for cooking but also for dipping. A very first of its kind.
To demonstrate its yummyness, Sir Reynold treats us with a feasty lunch. He served:
Fried Chicken
Lumpiang Shanghai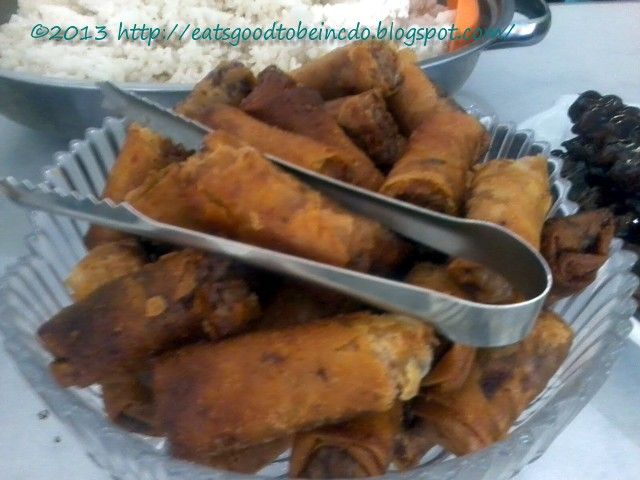 and Pork Bar-b-que
It really good! Its cheaper than Steak sauce or BBQ Sauce. Since its ready to eat, it can be used as dipping or basting. Fried, broiled, roasted are just a few of its perfect match.
Kataste comes in two flavors: Original and Hot. Original Variant named as "Oyster Meat Sauce" comes in a 280mL bottle with 65 Peso price tag and Hot Variant named as "Oyster Hot Sauce" comes in a 200mL bottle with 58 Peso price tag.
For orders, visit their display counter at Domingo's Eatery in 14th-21st streets, Nazareth (near Lourdes College Grade School gate) or txt/call them at 0915-4430-588.
---

Photo herein is captured using
Samsung GT-S3653W in
Domingo's Eatery
14-21, Brgy. Nazareth, Cagayan de Oro City
Misamis Oriental, Philippines
last 20th of December 2013